The Superstacked Mac Bundle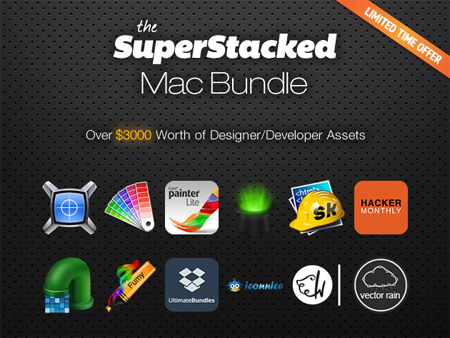 StackSocial just released an amazing deals for Mac users and designers. It contains tons of apps and ressources that are very useful for developers and designers. Hurry up to get yours, because the price increases by $1 every day.
Mac Apps & Web Services
xScope ($30) – An indispensable UI tool for designers and developers – 5 Star App Store Review
Painter Lite ($69) – Ease into the world of digital art
ColorSchemer Studio 2 ($50) – Professional color matching app for Mac
CSS Hat ($30) – Instantly turn Photoshop layer styles to CSS3
skEdit ($30) – A simple and intuitive HTML editor
Pixa ($25) – Quickly organize your image files
Fumy ($20) – Paint with smoke!
Growth Hacker Bundle ($2,400) – 13 subscriptions to help launch or enhance your website or business (Moz, AdRoll, Clarity, SendGrid, A/B Testing, LaunchBit, Crazy Egg, Stride, Segment.io, RJMetrics, HitTail, Vero, Heap, GH TV)
Design Resources
Photoshop Design Templates ($125) – Expertly designed, time-saving assets
15 App Templates ($75) – Fully customizable, hand coded app templates for iOS 7
Hand-Crafted Design Elements ($75) – Vector artwork for your design arsenal
500 Icons ($75) – Universal web icons
Train Simple – One month of Adobe Certified Creative Cloud Training
Over $3000 worth of Mac Apps, Web Services, & Designer Tools – for only $35. However, get it soon, because the price will increase by $1 per day up to $50!
The post The Superstacked Mac Bundle appeared first on Design daily news.
Are you a blogger? Turn your posts into eBooks very quickly using MagPress, our Premium WordPress plugin.