Giveaway: win a PixelKit membership account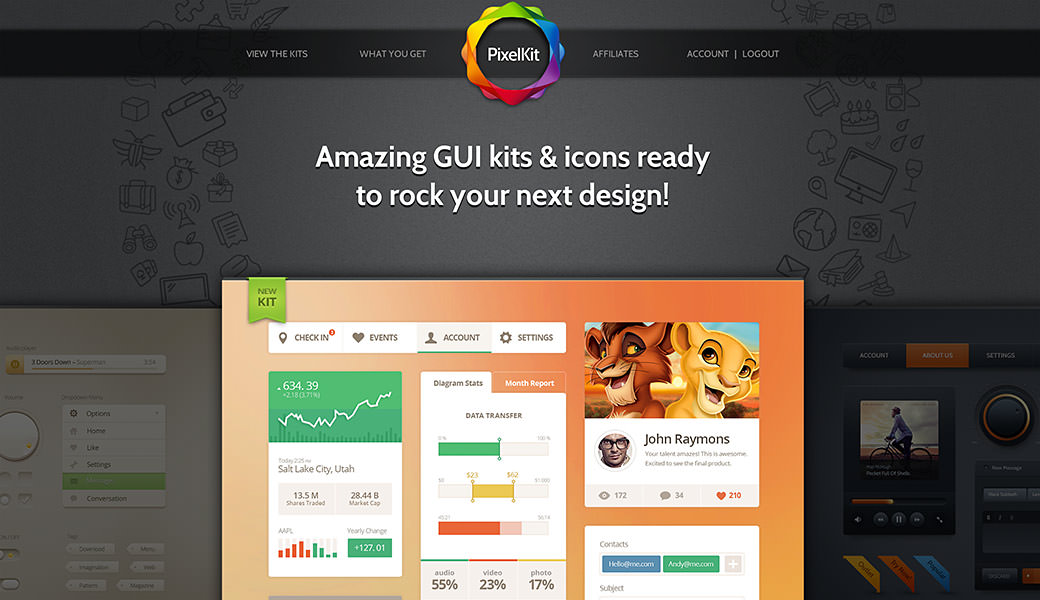 The wait is finally over! There is finally a solution available for those that want a UI kit that can work for them. PixelKit is an amazing resource for web designers and developers with an essential library full of quality UI kits.
What You Can Win!
There are three membership accounts from PixelKit available up for grabs that are good for an entire year! Below are just a few of the benefits included with these amazing membership accounts!
You will gain access to 4400+ premium graphics plus all the new releases for an entire year.
Each month there are new graphics added.
Since there are thousands of graphics with many different icons and elements, these kits are without the same problems as other packs on the market. These kits are far superior, giving users many different options to use in their many projects.
All graphics are able to be fully scaled.
An important element in today's market, the graphics are compatible for mobile use.
Since the elements are compatible with 960 grids, they can be used pretty easily in most HTML.
Web designers that use PixelKit can tell that they are able to finish projects faster, but still maintain a clean and professional look. Since they are all in one place, you also don't have to worry with searching the Internet for a good UI kit. Feel free to look around to see what comes along with one of these memberships.
Enter to Win:
First, leave a comment below letting us know where and how you would use the graphics from PixelKit should you be one of our winners.
Second, share the news by tweeting: Win a free @PixelKitcom membership account from @[your Twitter] (RT to Enter).
Lastly, visit Facebook and press the "Like" button on the PixelKit Facebook page.
Take a look at some of the icon sets and UI kits you can get:
Chubby Stacks – Fresh UI Kit
This UI kit has a crisp and playful look that will ensure your website stands out from the rest. You will be able to create several different types of designs with over 1000 vector elements to choose from.
Crooked Stats – Stats Infographic Kit
If you have a website that you want to be able to display statistics and data, this UI kit is perfect for presenting that information quickly.
5 O'clock Shades – App Icons
An icon set that gives a flat modern style with attention to detail that is perfect for any up to date web application.
City Break – Hotel UI Kit
For those looking to create a web design focused on a spa, hotel, or other vacation website, this UI kit has everything you need to create a website specifically targeted to the hospitality market.
Mirrored Twins
This flat and modern iOS icon set has a bipolar personality: there were created 2 versions for every icon in this collection. One is hollow and stylish, while the other one is chubby and filled with joyful pixels.
Dark Velvet – Dark UI Kit
Sleek dark lines can be used for websites targeted towards entertainment, but is also versatile enough to be used for a corporate site as well.
File Manager – Mobile App UI Kit
This UI kit is perfect for an iPhone web developer and maintains a minimalist vibe.
Be sure to check this out – the Free PixelKit Bootstrap UI Kits. These modern HTML templates are available for download and can be used to bring more functionality to your designs!
The post Giveaway: win a PixelKit membership account appeared first on Design daily news.Are you a blogger? Turn your posts into eBooks very quickly using MagPress, our Premium WordPress plugin.