7 splendid WordPress themes for writing professionals
Since its inception as a brilliant blogging platform, WordPress has been continuously upgraded for serving to the requirements of people who want to own a dynamic and eye-catchy website. WordPress has evolved as a full-blown content management system that's driving designers towards itself. An impressive population of authors has already started using WordPress themes for designing their blogging website. The easy-to-use widgets and clever interface of WordPress makes it a perfect fit for writers looking forward to building their WordPress blog. Today, in this blog, I'll be walking you through 7 best WordPress themes that have been developed, keeping the customized needs of writers in mind.
WordPress- Why choose it for developing an online author portal?
Selecting WordPress CMS for building a custom online blog is definitely a brilliant decision. If you too are an author then designing WordPress blog can allow you to gather maximum readers for your blog posts and guest posts. Irrespective of whether you intend to operate your blog as a sole author or wish to invite a group of authors for writing your blog's content; using WordPress themes can allow you to perform activities as per you will. While your readers will be excited about using your blog's front-end, the effective back-end will allow you to manage all the activities that are being performed on the site. Markupcloud Ltd. is a firm that's been into the business of delivering fully-functional and beautiful WordPress themes for both, novice as well as amateur writers.
Now, the 7 WordPress Themes that are custom-made for writers
1. The Writer
The Writer is a premium WordPress theme that was created on November 20th 2013. This theme is compatible with WordPress versions viz: 3.5, 3.6 and 3.7. As a fully responsive and widget-ready WordPress theme, The Writer is best suited for aspiring writers, authors and columnists. Backed by a powerful visual customizer, this WordPress theme offers you the opportunity of branding your WordPress website to your business. The easy-to-interpret documentation available with The Writer makes it a hot favorite among people who aren't technically-sound. The Writer is compatible with web browsers including IE8, IE9, IE10, Firefox, Safari, Opera and Chrome.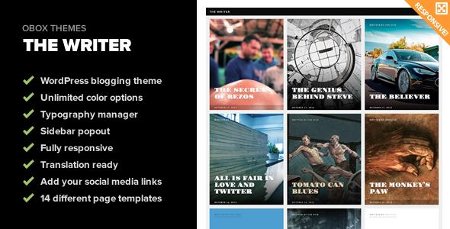 2. Basic
Most of the authors don't believe in showcasing their write-ups using bold grid-like layouts. Paying due heed to this belief of authors, WordPress community has come up with Basic– a WordPress theme with a traditional blog-like design. Excellent for hosting content-rich websites, Basic has a tremendous scope for displaying images and videos to affirm excellent reader experience. This theme is compatible with web browsers including IE8, IE9, IE10, Firefox, Safari, Opera and Chrome.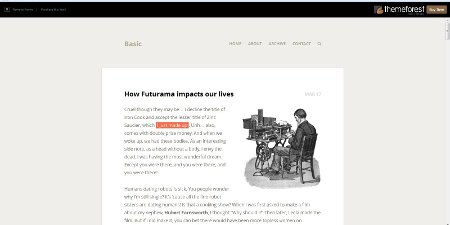 3. OldCar
If owning a personal blog is on your mind then OldCar is your right fit. As a creative HTML5 WordPress theme, OldCar is tailor-made for personal blogging websites and portfolio websites. You can choose from two types of layouts including normal layout and fluid grid layout. The best part of OldCar is that it comprises of several shortcodes such as service, slider, team etc. that can be used for customizing the website as per specific requirements. OldCar is compatible with web browsers including IE8, IE9, IE10, Firefox, Safari, Opera and Chrome.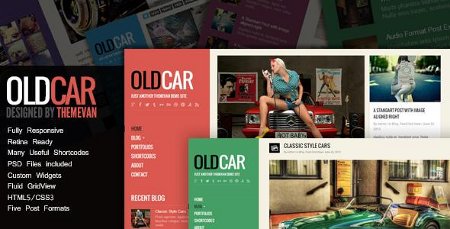 4. Chita
Chita is a bold and trendy full width blog theme. Based on the Bootstrap framework, this WordPress theme offers 100% responsive design and a brilliant support for audio posts. Retina-ready resolution of Chita makes it the first preference of writers who want to build websites that run smoothly on desktops, laptops and mobile devices. Last updated on 24th January 2014, Chita is a must-have for every WordPress blogger. Talking about browser compatibility, Chita is compatible with IE8, IE9, IE10, Firefox, Safari, Opera and Chrome.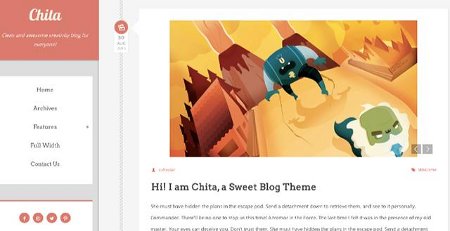 5. Raiden
Yet another Writer-oriented WordPress theme, Raiden renders a smooth and readable display of text that works well with both long as well as short articles and blog posts. Refined typography and amazing aesthetics make Raiden an ideal theme for your WordPress personal blogs. Equipped with a View Mode Switcher, Raiden allows you to optimize the content readability as per the specific conditions (day/night). Raiden works perfectly with web browsers including IE8, IE9, IE10, Firefox, Safari, Opera and Chrome. It's also compatible with WordPress versions 3.5, 3.6, 3.7 and 3.8.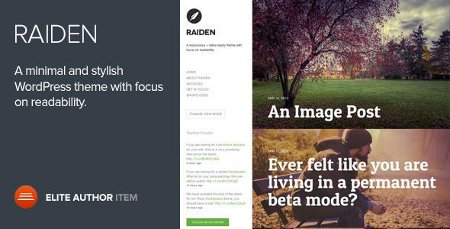 6. Pilcrow
Pilcrow is a robust and responsive WordPress theme that's powered by AJAX and provides smooth transitions for different readings. Apart from offering color customizations, Pilcrow supports AJAX validated forms, images, quote links, videos and standard post formats. The three pre-defined color schemes allow you to customize the look of your site's theme. Compatible with web browsers including IE8, IE9, IE10, Firefox, Safari, Opera and Chrome, Pilcrow expects you to install WordPress 3.5.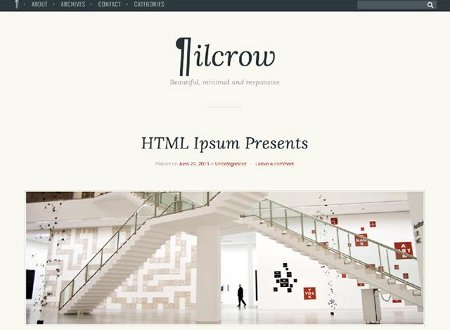 7. Blogify
As a highly configurable WordPress theme, Blogify offers a sidebar that doesn't interfere with the clean and uncluttered display of text. Blogify's 1.8.3 version has received a tremendous response from WordPress blog owners residing in different corners of the world. The easy-to-understand admin panel allows you to customize your site's theme in a convenient manner. Blogify is compatible with web browsers including IE8, IE9, IE10, Firefox, Safari, Opera and Chrome.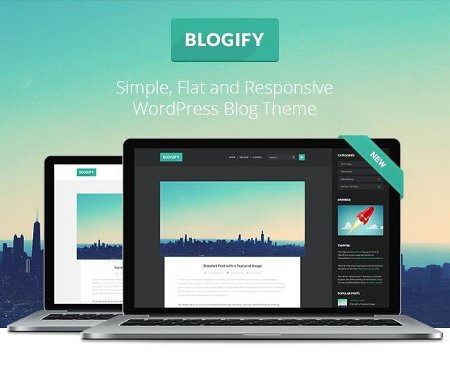 Wrapping Up
So, that was a list of 7 amazing WordPress themes that are a perfect match for everyone who has a flair for writing and wants his/her talent to be recognized by people all the world. Hope you'd have enjoyed reading the post. If you want to add a theme to the above list, please proceed ahead by using the comments box below.
About the autor: Mike Swan is a Chief Content Writer at Markupcloud Ltd, a PSD to WordPress Theme Conversion Services Company. With over 7 years of experience in writing content related to various web development technologies, he loves sharing information about WordPress and its features.
The post 7 splendid WordPress themes for writing professionals appeared first on Design daily news.Are you a blogger? Turn your posts into eBooks very quickly using MagPress, our Premium WordPress plugin.